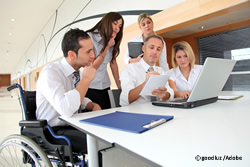 Syd Strike Training has helped numerous organisations manage change through consultation, change management programmes, facilitation, training and coaching. A recent project was for an engineering team based in Oxfordshire. The team wanted to improve communication skills. When we looked at the problem in detail we agreed with our customer that a change management programme would be more appropriate than typical communication skills training, and so we designed and facilitated a three day change management event that we named 'The Communication Event'.
Thirty engineers and project managers participated, commencing with a gathering of the full team on day one for a session where we worked in groups and plenary sessions to identify and prioritise issues relating to communication within the department.
The following sessions were half day sessions where we worked in smaller groups using a tried and tested model, taking a few tools from the many tools available in our change management toolbox. We explored problems and solutions, including for some of the groups, a little training, coaching or motivational input (every group had different problems to solve). The general pattern we followed was to facilitate change using the model …
Where are we now?
Where do we want to be?
What's broken?
Identifying symptoms and root causes
Exploring solutions to root causes
Planning to resolve the issues identified
The final session on the last day was a sharing session as groups communicated their findings and decisions and enlisted specialist help across the groups to achieve the objectives.
The excitement was tangible, and success is still ongoing, resulting in time saving, better productivity and cost saving, as well as improved morale.
The programme has now been rolled out to their colleagues working on these projects in India.
Would you like to know more about these facilitation sessions?
Let us deliver a session for you